From the Desk of the Incharge Principal
Values for Morning Assembly
Information of the School
Mandatory Public Disclosure

Sadhu Vaswani Mission, is a registered body founded by Sadhu Vaswani.
The objectives of the Mission are :
To spread the message of Brotherhood, Unity and Harmony.
To promote cultural and spiritual development by starting educational Institutions and centres of training that concentrate on character building, cultivation of the soul and social service.
To serve the needy, irrespective of colour, caste or creed.
St. Mira's Educational Board was constituted in the year 1950 under the chairmanship of Maharishi D.K. Karve, who had watched the progress of the Mira Movement from its very inception. He had great appreciation for its ideals, and admiration for its revered Founder.
The high school at Pune was started on 1st March, 1950. Over the years, the Sadhu Vaswani Mission started educational institutions around India, notably in Pune, Ahmedabad, Delhi, Mumbai, Rajkot and Baroda.
The mission is to make every child a gift of God and a pride to human race.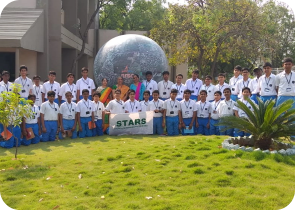 The Sadhu Vaswani Mission, A.P., has taken the lead to set up the next institution of Vaswani Mission at Kompally, Hyderabad. The child conviction and aim is to inculcate amongst children the 4 C's – Compassion, Courage, Character and Culture, thus enabling every student passing out of the school to become an asset to humanity and pride to her/his parents.