General Guidelines for Parents of St. Mira's Day Care
Meeting the Administrator

For working parents the problem of where to leave their child during the day poses some serious questions. Should one take obligations from relatives? Will the child be well looked after? What will happen in case of an emergency? And the biggest one of them all, "am I neglecting my child?"
Besides, with all these kind of thoughts occupying your mind, naturally, it becomes quite difficult to focus on the work at office. Relax! Take it easy! Rest assured! The solution is here!
An initiative of the Sadhu Vaswani Mission, St. Mira's Day Care is located on the campus of the Sadhu Vaswani International School , Kompally. The Crèche has been setup with the specific purpose to ease the burden of working parents by taking care of their children during the day.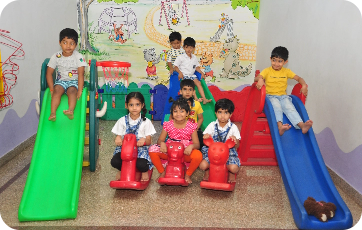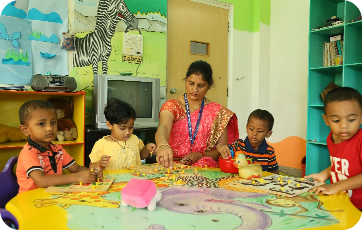 Timings:
8:00 a.m. to 6:00 p.m. – Monday to Friday
8:00 a.m. to 3:00 p.m. – On all working Saturdays
Catering to the needs of children ranging in age from one and half years to ten years (18 months to 10 years). We have the necessary expertise and experience to look after your child in the best manner possible.
A World of care for your child
At St. Mira's, your child will enjoy a clean, hygienic atmosphere under the tender care of qualified teacher and well-trained staff.
Just take a look at the facilities we offer:
Well-designed play and educational toys
Audio-visuals for entertainment and to impart informal education.
Overall supervision of homework, play, co-curricular activities of school-going children.
Wholesome snacks and delicious meals prepared in hygienic kitchen
Reasonable fee structure that can be customised as per timings
Any change in the phone number or the address or change of transport should be intimated immediately to the office with a written application.
Reassurance on every count.
To ensure that we're prepared for any eventuality where your child is concerned, we go all out to bring you complete peace of mind. Apart from a well-stocked medical kit and first aid box on the premises, we also have a doctor, specializing in pediatrics, always available on call. In case of a serious emergency situation, we even have a tie-up with a prominent hospital nearby for prompt action and immediate treatment. So you can be confident that your child is in the safest, most competent hands 81. Mira's Day Care. A boon for working parents. A blessing for your child. Get in touch with us today.
Sadhu Vaswani Mission – Serving the Society
The Sadhu Vaswani Mission is renowned the world over as a great humanitarian service organization, respected for its integrity, commitment to cause of the needy and other wide ranging activities. The services it extends embrace several spheres that impact peoples' lives i.e. social, educational, spiritual, medical and environmental. Founded in 1929 by the revered Sadhu Vaswani in Hyderabad , Sind, the Mission now has centres across the world with the headquarters currently located in Pune and is run under the inspiring guidance of Dada J.P Vaswani. The Mission operates educational institutions around the country in Pune, Ahmedabad, Delhi Mumbai, Rajkot and Baroda .
St. Mira's day care centre is a professional set up, which opened its door to the public in the first week of April. It has been opened for the convenience of parents.
Parents desirous of sending their wards for playgroup will find our day care also providing the playgroup class under St. Mira's.
At St. Mira's we have trained, experienced and committed staff to look after the needs of your ward. Daycare/playgroup children will spend time at the centre in a constructive manner. Overall development – social, emotional, intellectual and physical will be taken care of. Good eating habits, table manners will be taught.
Sleeping time is slotted for younger children, so that a child is fresh and happy. Clean hygienic atmosphere is provided. Air-conditioned rooms are provided during the summer months.
At St. Mira's we provide transport facility too. The school bus will ply in the mornings such that children will reach school by 8:00 a.m. If you want to send your ward at 9:00 a.m./9:30 a.m. for daycare/playgroup, then the bus will ply within a 5km radius around the school. Day care will remain open from 8:00 a.m. to 6:00 p.m. from Mondays to Saturdays. Playgroup will be open from 9:30 a.m. to 12:30 p.m. Monday to Friday.
The daycare will remain closed on second & fourth Saturday and on all public holidays, and as when any circumstance requires, it will be closed with short prior notice.