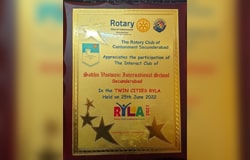 It gives us immense pleasure and pride to share that our students participated in RYLA – an Inter school competition held at St Michael's school on Saturday, 25th June 2022, organized by the Rotary Club of Cantonment Secunderabad. The competition comprised of different categories. The students of SVIS took part in three categories and won laurels in all the three categories.
1. DANCE PE CHANCE- 1st
2. MUSIC & MELODY- 1st
3. ART & ARTICULATE – 2nd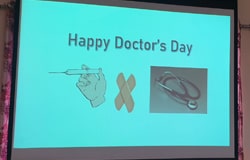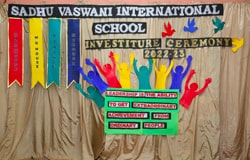 Investiture ceremony for Juniors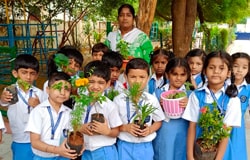 Vanmahotsav was celebrated by the young environmentalists of SVIS, through the EXCHANGE A SAPLING campaign
Intra-Class plant sapling competition was organized for the students of Grade 4 to 6. The students participated in it with lot of zeal and excitement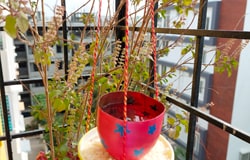 The students of Grades 7 & 8 created beautiful bird feeders and kept them in their balcony near the plants with some water and food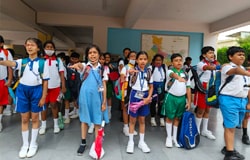 The entire staff and students of SVIS pledged to Go Green on the occasion of Vanmahotsav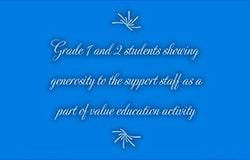 'Service to mankind is service to GOD'. The little ones of grade 1 and 2 of sadhu Vaswani International School Hyderabad practiced the value of generosity by bringing one fruit each and distributing to the support staff of the school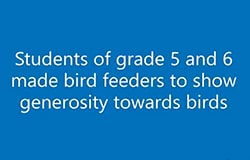 Generosity can be shown to birds and animals as well. Students of grade 5 and 6 of Sadhu Vaswani International School Hyderabad had put on their creative hats to make bird feeders for the birds around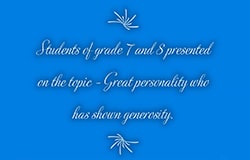 Students of grade 7 and 8 made use of technology to its best to show a presentation through power point, role play and speeches on the topic – Great personality who has shown generosity. They cited examples of Dada J P Vaswani, Abdul Kalam, Karan, Dr. B R Ambedkar and many unsung heroes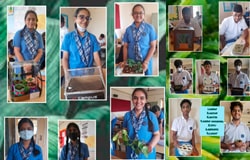 The students of Grades 9-12 celebrated Vanmahotsav by growing small plants in the Mini Greenhouses created by them. They demonstrated that every small act of preserving and caring for the nature is important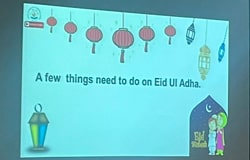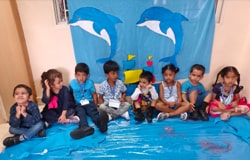 Tiny tots of Nursery celebrated Blue Colour Day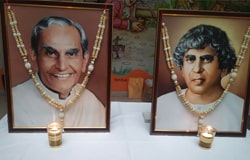 To pay tribute on the 4th Death Anniversary of our beloved Guru Dada J. P. Vaswani, in his fond rememberance a hawan was organized in the school which was initiated by our esteemed Chairman, Dr. Harish Mirchandani and other dignitaries. All the members present seeked the blessings of our beloved Dadaji with love and reverence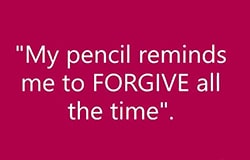 "My pencil reminds me to FORGIVE" – tiny angels of grade 1 decorated their pencils and tagged them with words which remind them to FORGIVE others during their value education class. Kindly observe silence for 2 minutes on 2nd August at 2pm and forgive all those who have hurt you in anyway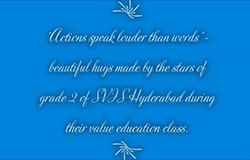 The twinkling stars of grade 2 of SVIS Hyderabad made 'happy hugs' during their value education class to express their love and seek forgiveness from those to whom they have done wrong or hurt in any way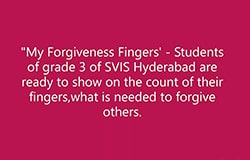 'Forgiveness Fingers' – students of grade 3 of SVIS Hyderabad remind us that it is easy to forgive! On the count of fingers they convey that to forgive one needs acceptance, patience, love, care and appreciation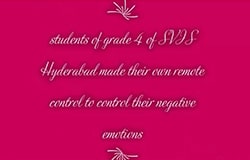 Students of grade 4 of SVIS Hyderabad have created their own remote controls to control their negative emotions and practise positive emotions. This teaches them to forgive and overcome negative emotions like anger, hatred, jealousy and resentment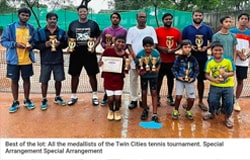 It gives us immense pleasure to announce that Vihaan Banala of Grade E has won three first prizes in the Twin Cities Tennis tournament in the U-12 , U-14 and U-14 doubles categories on 17th July, 2022. We wish Vihaan and his family a hearty Congratulations and all the best for a bright future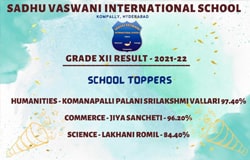 SVIS is proud to announce the CBSE Grade XII results for the academic year 2021-22 where in 100% results were secured in Commerce and Humanities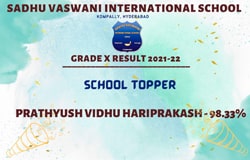 SVIS is proud to announce the CBSE Grade X results for the academic year 2021-22 where SVIANS secured 100% results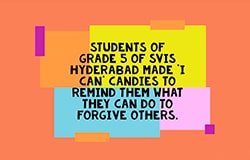 "My Coping Candy" – How can someone forgive easily? Let's learn from the smarties of grade 5 who have made candies to show what can they do to forgive others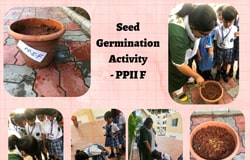 The process of seed germination is a fun way to teach little ones how plants grow from seeds. This fun activity was carried out by our students of Pre Primary wherein each class sowed seeds in one pot each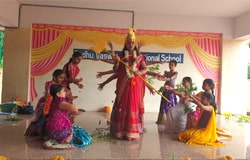 Mira Bai House Special Assembly on Bonalu – 1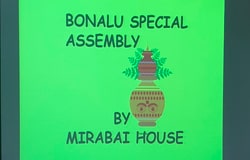 Mira Bai House Special Assembly on Bonalu – 2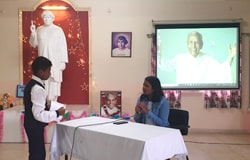 The students and teachers of French department celebrated the French day with lot of enthusiasm and fun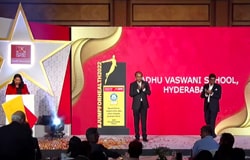 "Your feet in the air can help someone walk on their feet" Sadhu Vaswani International School Hyderabad partnered with Aditya Birla Group for a noble cause JumpForHealth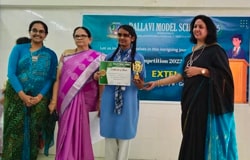 Students of Sadhu Vaswani International School participated in the Inter School Elocution and Extempore competition held at Pallavi Model School, Bowenpally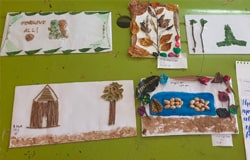 The participants of Grades IX-XII delved into their explorative and innovative ideas to make a collage out of naturally found objects like dried leaves, flowers, pebbles, sand, twigs, etc.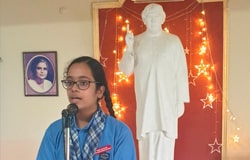 Act-o-Logue- Declamation competition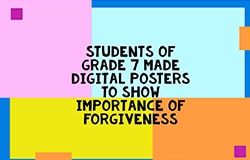 'The E- poster" – techno smart lot of grade 7 made digital posters to show importance of forgiveness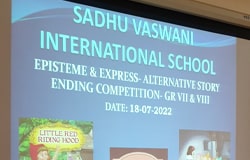 Rev. Dada J.P. Vaswani believed, "Love has many forms. Perhaps, the noblest amongst them is – forgiveness! The one who forgives becomes the recipient of true peace and happiness." With the theme of Forgiveness the students of Grades 7 & 8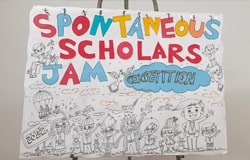 "Can man be forgiven for destruction on earth?" This was the theme given for the JAM COMPETITION- SPONTANEOUS SCHOLARS, for Grades 3 and 4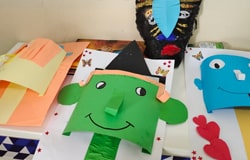 To encourage students to bring out their creative talent, a 3- D Portrait face mask competition was conducted for the students of Grades V and VI. The students participated in it with lot of zeal and excitement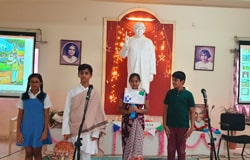 Inter House Hindi Skit Competition with Moral Value Kshama was organized on 28 July 2022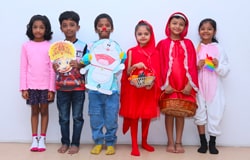 "Important life lesson I learn from my favourite cartoon character" was the theme of the ROLE PLAY COMPETITION- CHARACTER SILHOUETTES for Grades 1 and 2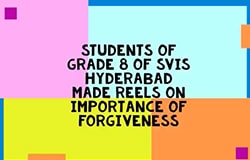 Students of grade 8 of svis Hyderabad made reels to show importance of forgiveness in our lives